An expectant public
The reason Beveridge's radical ideas were so enthusiastically welcomed was that the public were ready for them.
A J Cronin was the JK Rowling of his day.
The public could not get enough of him. Several novels were translated into immediate Hollywood blockbusters in the 1930s.
Archibald Joseph Cronin (1896-1961) was born in Cardross and graduated in medicine from Glasgow University in 1919. His mother was the first female public health inspector in Glasgow.
He married Agnes Gibson, also a doctor. They moved to South Wales where he worked for the Tredegar Medical Aid Society. Workers paid contributions and in return received free care for themselves and their families.
The Cronins then headed for London where he was diagnosed with a chronic duodenal ulcer.
This prompted a career switch and a return to Scotland, renting a house at Dalchenna Farm near Inveraray where Cronin began writing. His first novel, Hatter's Castle was an instant success.
The Citadel followed in 1937 with the film released the following year. It had top star treatment – King Vidor as director and Robert Donat, still fresh from his escape from the Forth Bridge in the 39 Steps, Rosalind Russell, Ralph Richardson and Rex Harrison in leading roles.
It was nominated for four Oscars and an estimated nine million people flocked to see it – and weep with emotion or cry with anger afterwards.
Dynamism and dynamite
The plot is simple. Young idealistic Scottish doctor Andrew Manson comes to South Wales. Faced with a typhoid outbreak, he energetically pursues the authorities to take it seriously. When that dynamism fails, he resorts to dynamite and blows up the old sewer – the source of the outbreak.
Doctors are variously portrayed as able, committed, drunk or useless. When he moves to London to seek his fortune, Manson teams up with a clique of greedy and incompetent doctors.
There's no mistaking the message. Socialised medicine for working people along the Tredegar model was pure and noble but the current system as then practised in Harley Street was totally corrupt and immoral.
The film's impact was sufficient to merit a re-release in 1948 when the NHS was set up.
The Citadel broke all records in America for publisher Little Brown – even outselling its previous blockbuster All Quiet on the Western Front.
Cronin knew his market, making a key character, the TB pioneer Stillman, an American. In the USA Cronin was compared to Dickens and the family settled there in 1939.
Tannochbrae
Cronin's later creation, Dr Finlay, later did for television what the Citadel did for the cinema.
It was story telling at its best – a hard edged bite of medical drama, spiced with large dollops of sentimentality and fine characterisations.
The BBC TV series based in a fictional village of Tannochbrae, drew weekly audiences of 12 million to watch Finlay (based on Cronin), his wiser partner Dr Cameron and Janet, their housekeeper.
It made stars out of Bill Simpson, Andrew Cruickshank and Barbara Mullen. And it spawned a range of jokes around the school playgrounds – Dr Finlay, would you like a cup of tea? Janet, can a man nae go to the toilet in peace?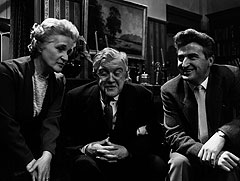 Dr Finlay was a fictional character.
The real Dr Finlay of great medical fame belongs to Cuba. Dr Carlos Juan Finlay, son of a Scottish doctor father and French mother, discovered that yellow fever was transmitted by mosquitoes.
He didn't get the plaudits of Sir Ronald Ross (winner of Britain's first Nobel prize) or Oldmeldrum-born Sir Patrick Manson, the founder of modern tropical medicine.
But there is an institute, society and series of postage stamp in Cuba – and a street in Paris – named in his honour. A far cry from Tannochbrae.
Cronin was enigmatic about his politics – but his sympathy for the South Wales miners remained undiminished in later life. He recalled his response to the comments of a boorish toff in a swanky London club bemoaning the latest miners' strike:
"Another sixpence an hour" he complained. "There is no satisfying these cursed blighters, what the devil do they want?"
"Only the right to live!" I interposed mildly.