Scottish medicine
Scotland has long had a distinctive tradition of academic medicine.
Bringing teaching, research and treatment of patients together, preferably under the same roof, can deliver excellent results. Doctors in their training see real people, diagnosis is scrutinised by others and patients can directly benefit from research.
The Scottish system was based on a scientific curriculum and learning from international practice.
Scottish universities were also historically more open to poorer students. This had a further boost with awards from the philanthropist Andrew Carnegie. Bevan's wife, Jennie Lee, a miner's daughter, was one of the beneficiaries as an Edinburgh arts undergraduate.
Outside influences
In 1935 most physicians at Edinburgh's Royal and Glasgow's Western Infirmary had done some postgraduate training abroad. London's twelve medical schools could only muster eleven such physicians – and two of these were Scottish graduates.
In Scotland, while some doctors had large and lucrative private practices, this was less prevalent than in England. Most worked unpaid as consultants in the voluntary hospitals. Their prestige rested on their university status.
All this changed with the NHS. Senior doctors were paid regularly for the first time and they started coming in regularly to work on contracts, not simply to consult.
University doctors' pay across the UK was linked to that of NHS consultants, opening up the prospect of academic careers in Scotland and England, where the postgraduate school at the Hammersmith Hospital was an outstanding example.
Nobel inside forward
In the inter-war period Scotland also offered medical training to overseas undergraduates, including Jewish medical students from America denied such opportunities at home.
By 1937 there were more than 500 American medical students enrolled in Scotland – by far the largest of any European country.
Some bright stars anxious to get out of Nazi Germany also came to Scotland, including Ekke Kuenssberg, pioneer of social medicine and general practice, and Hans Kosterlitz.
The war brought various medical units to Scotland from Canada, France, the USA and Norway. Poland established a whole new medical school in Edinburgh, with the support of Edinburgh and Glasgow university teachers, and had wards in the Western General.
Andrew Schally, a young Polish refugee who had fled the Holocaust, completed his high school education in Scotland in 1946. He had the playing ability and wanted to make it as inside forward for a Scottish or English football club. But he had to settle for another career and winning the 1977 Nobel Prize for medicine instead.
Next: Hospitals before the NHS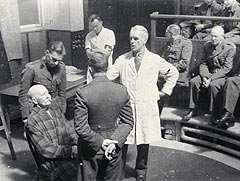 "There was a slight background attitude, particularly among consultants and senior medical staff, that the 'sick poor' were a slightly different species. It might be implied that 'they do not feel pain like us' though it was never so crudely stated, this presumably being the result of private practice. The Harley Street consultant was considered to have reached the peak of their profession. Academics mainly lived in departments in the basement and they carried far less prestige."
Sir John Crofton on the system in London
"There was a marked difference in the south to private practice. I remember telling someone in London that I was working with a professor of medicine (in Edinburgh), thinking this would boost my ego. But I was told that in London academic status did not matter. It was private practice that counted."
John Forfar, in 1948 a newly appointed consultant in Edinburgh.